1. Forum Structure
1.1. Event Introduction
Forum Name: Food & Beverage Innovation Forum (FBIF2022)
Exhibition Name: FBIF iFood Show
Time: Sep. 21-23, 2022 (3 days)
Venue: Shenzhen World Exhibition & Convention Center (Bao'an District)
Forum Address: No.1 Zhancheng Road, Fuhai Street, Bao'an District, Shenzhen, Guangdong, China
Organizer: Simba Events
1.2. Event Agenda
For more details of the agenda, please refer to http://www.hoangthuchao.com/fbif/en/forum/agenda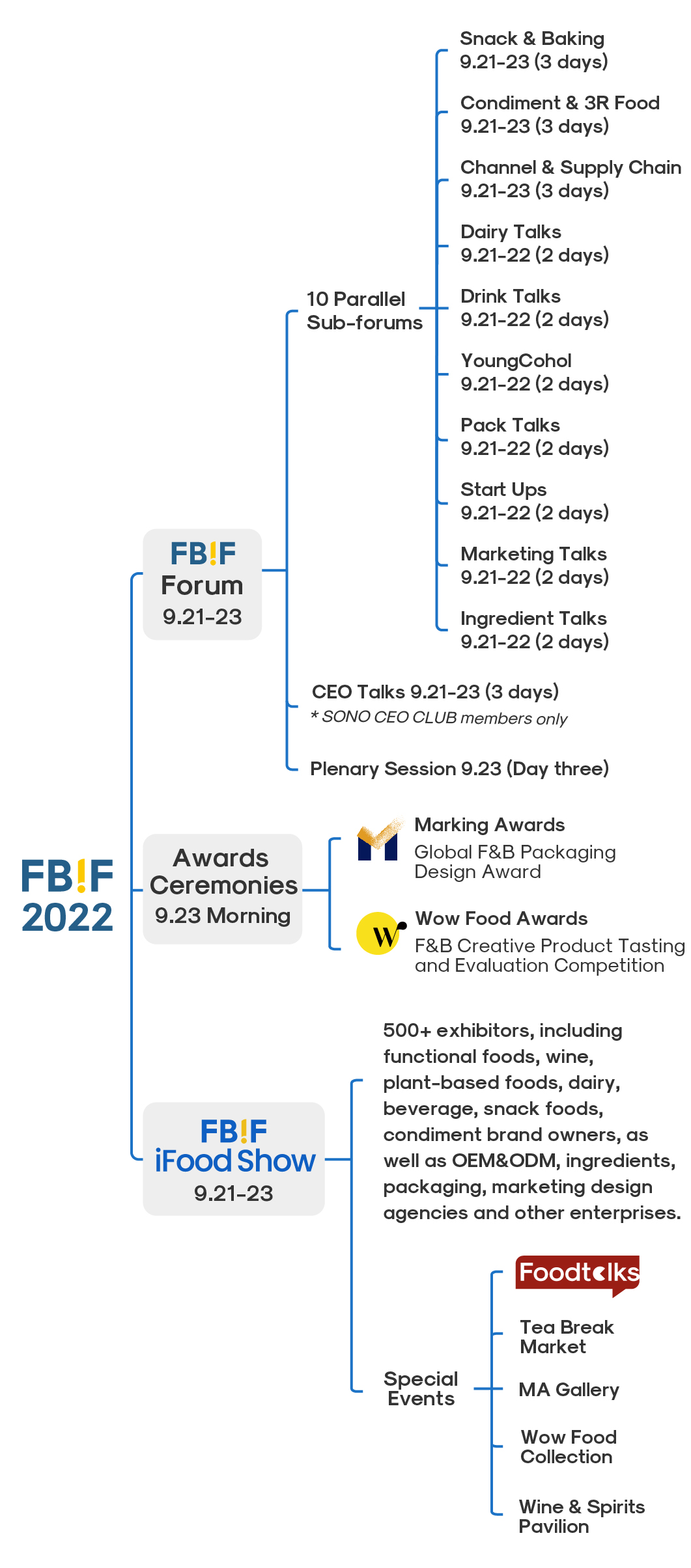 Event Agenda
Source: Food & Beverage Innovation Forum (FBIF)


1.3. Venue Map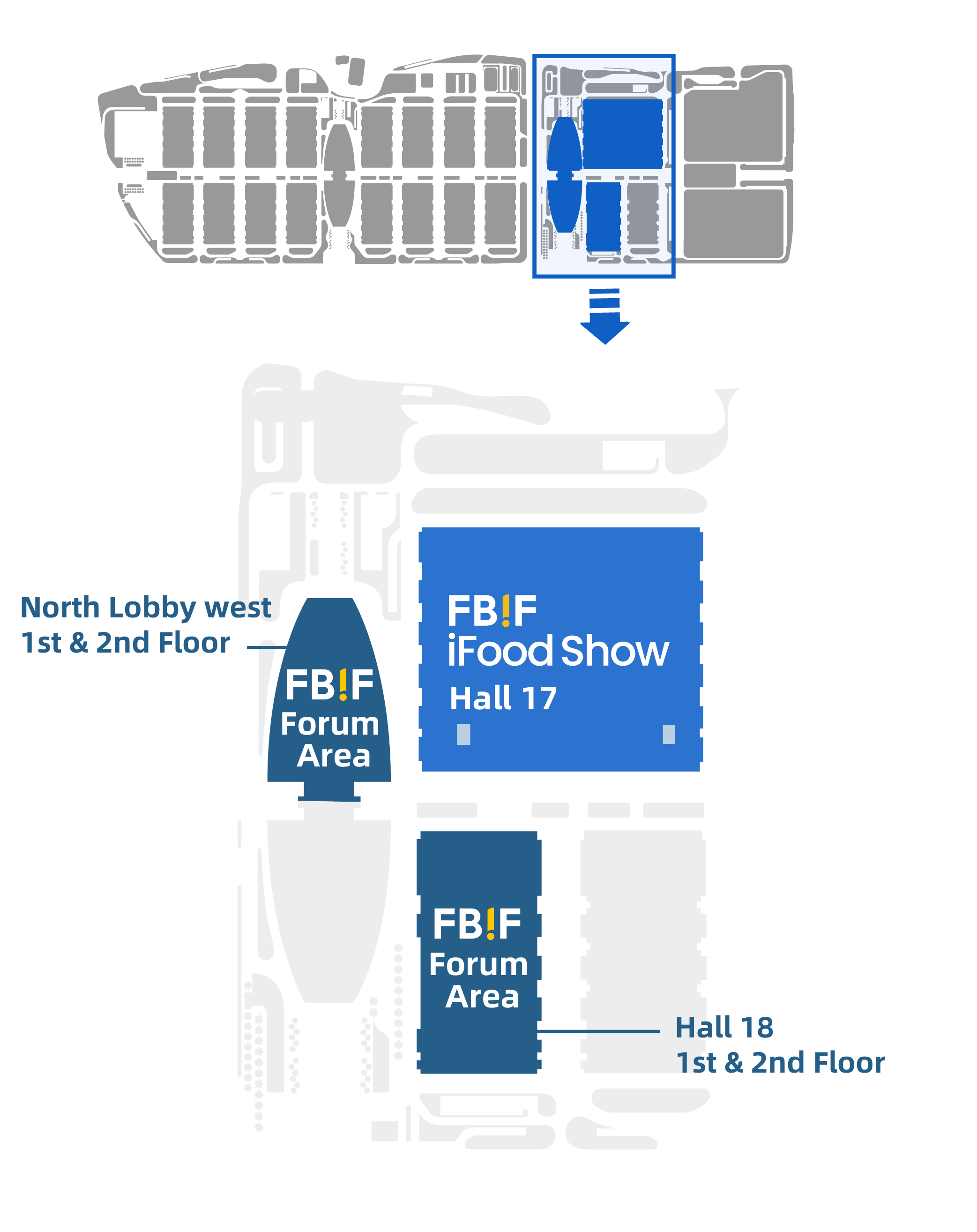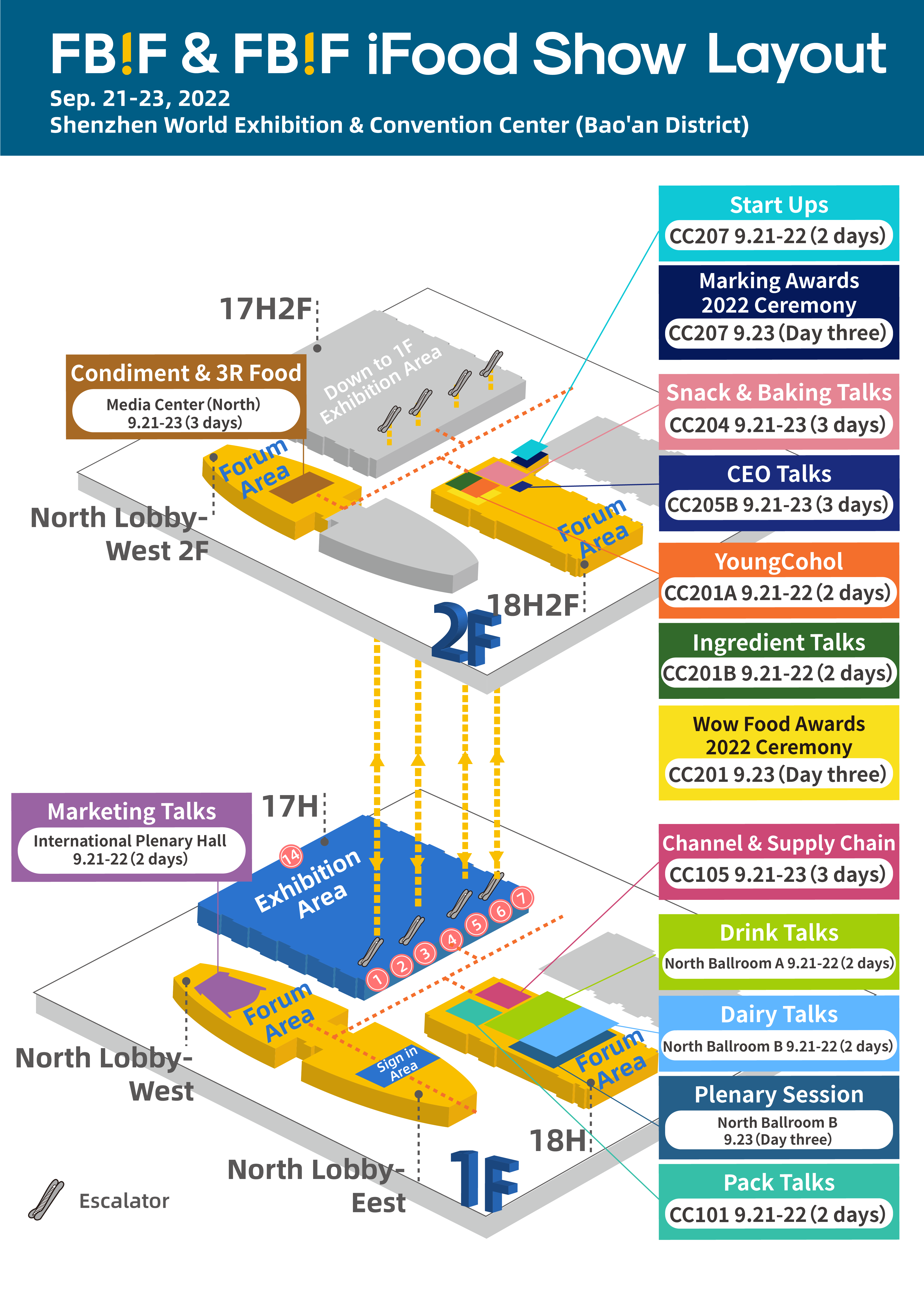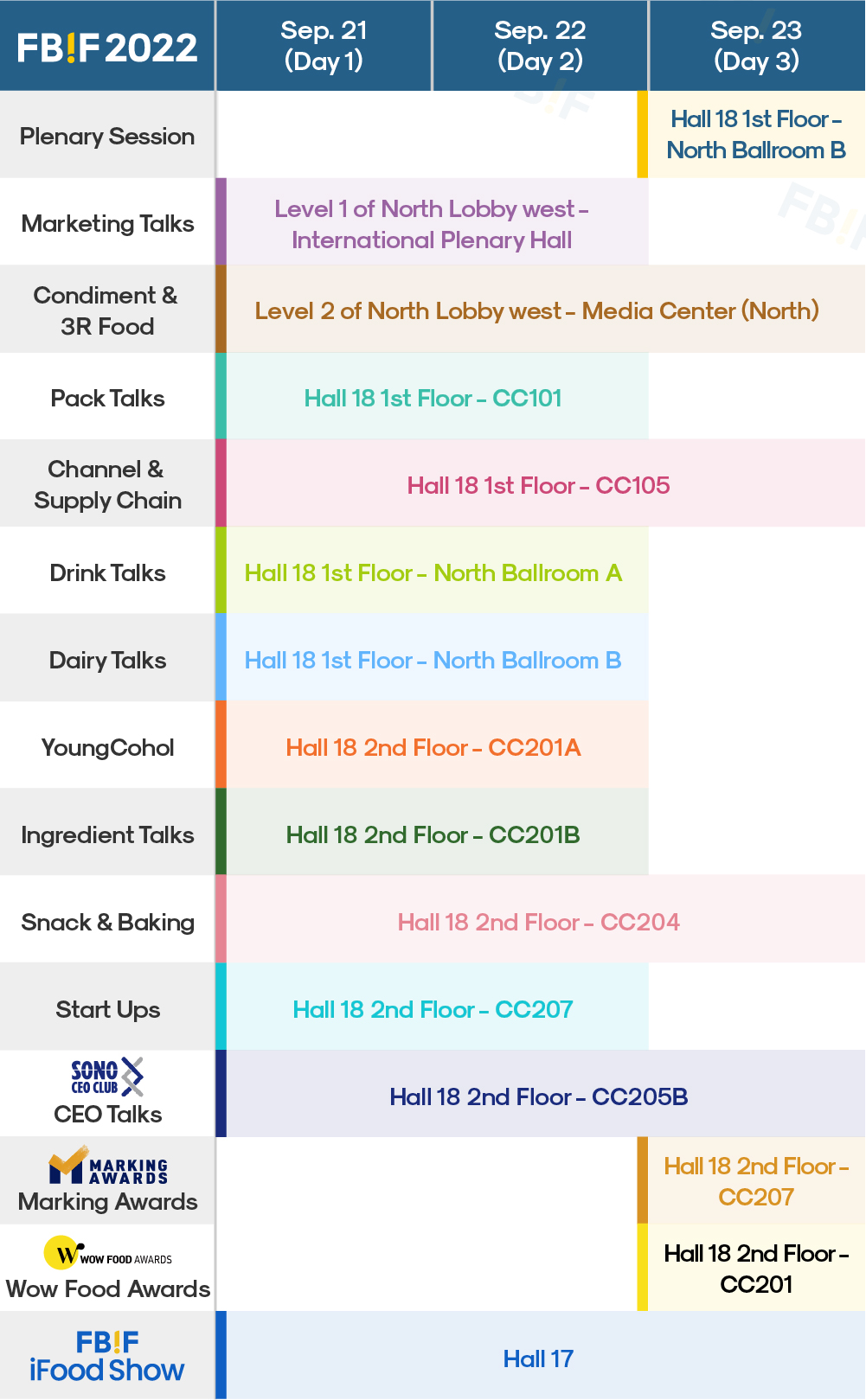 Venue Map
source: Food & Beverage Innovation Forum (FBIF)
2. Sign In
2.1. Ticket Types and Benefits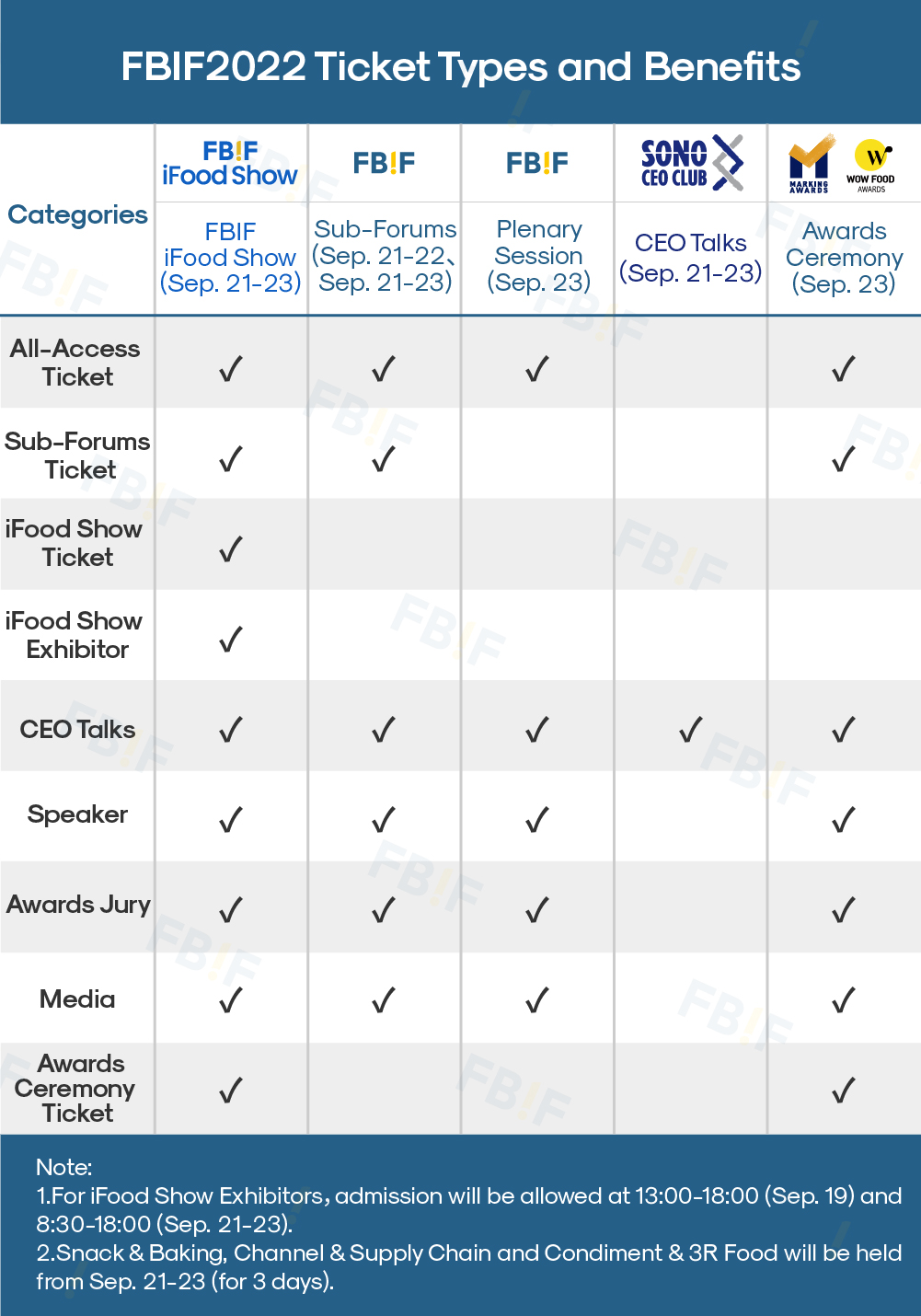 Ticket Types and Benefits
source: Food & Beverage Innovation Forum (FBIF)
For more details of the agenda, please refer to http://www.hoangthuchao.com/fbif/en/forum/agenda
* Awards:
Marking Awards(MA) 2022
Wow Food Awards(WFA) 2022
* Accommodation and meals are not included and need to be arranged by participants and at their own expense.
* During the event time, tickets can be purchased at the box office or online: FBIF tickets system. (Ticket purchases are subject to availability, please refer to the organizer's latest notice.)
2.2. Sign-in Instructions
2.2.1. All participants need to complete registration in the FBIF tickets system before admission.
2.2.2. All tickets in the FBIF tickets system are for personal use only. Once the on-site sign-in is completed, they cannot be canceled or replaced. If replacement is required, please re-purchase tickets.
2.2.3. For Mainland Chinese attendees, you are required to bring your original ID cards; for Non-Mainland Chinese/Overseas attendees, the on-site identification process will be required, you need to present the passports or other identification documents that match your registration information at the sign-in area before admission.
2.2.4. If you confirm that you are unable to attend, please contact the corresponding sales or FBIF organizing committee before 24:00 on Sep. 20, 2022 (the day before the on-site sign-in of the conference) to complete the replacement of personnel or extend the quota to the next FBIF Forum use.
2.3. Admission Notice
2.3.1. No admittance for minors(under 18 years old): FBIF is exclusive for adult professionals. Following this clause, FBIF Organizing Committee reserves the right to deny admittance for minors(under 18 years old). Those minors and their guardians who have entered the venue would be warned or be told to return.
2.3.2. No admittance for pets: For the maintenance of the on-site order, there is no admittance for pets. Following this clause, FBIF Organizing Committee reserves the right to warn or dissuade those who bring their pets from entering.
2.4. Epidemic Prevention Guideline
(The above requirements might be adjusted for the epidemic prevention and control policy. Please align with the latest notice.)
3. Hotel Booking
3.1. FBIF2022 Official Designated Hotel Reservation Service Provider: JL-BESTmeeting
3.2. Hotel Reservation Entrance
You can scan the QR code below, or click the hyperlink to book the hotel.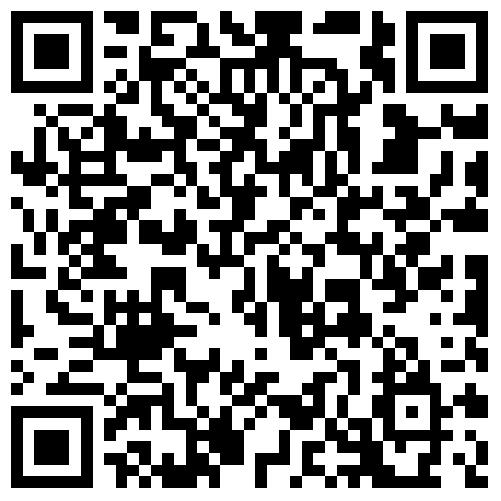 3.3. Tips
3.3.1. The accommodation shall be arranged by the participants and the expenses shall be borne by themselves. It is strongly recommended to book the room in advance in case there is a short of room by the time.
3.3.2. Hotel prices are the cooperation prices between JL-BESTmeeting and the hotels, including 15% service charges, tax, and the bus fare for early pick-up, as well as evening delivery from the hotel to the exhibition hall during the forum, and they may fluctuate due to off-peak seasons. Taxes, service charges and occupancy regulations are subject to the latest hotel policies.
3.4. Hotel Reservation Service Hotline
Mobile/WeChat: 17722570352 (Ms. Deng), 13817299016 (Ms. Zhang), 18682281917 (Ms. Yang), 18824230502 (Ms. Zhu)
4. Traffic Guide
4.1. Venue Floor Plan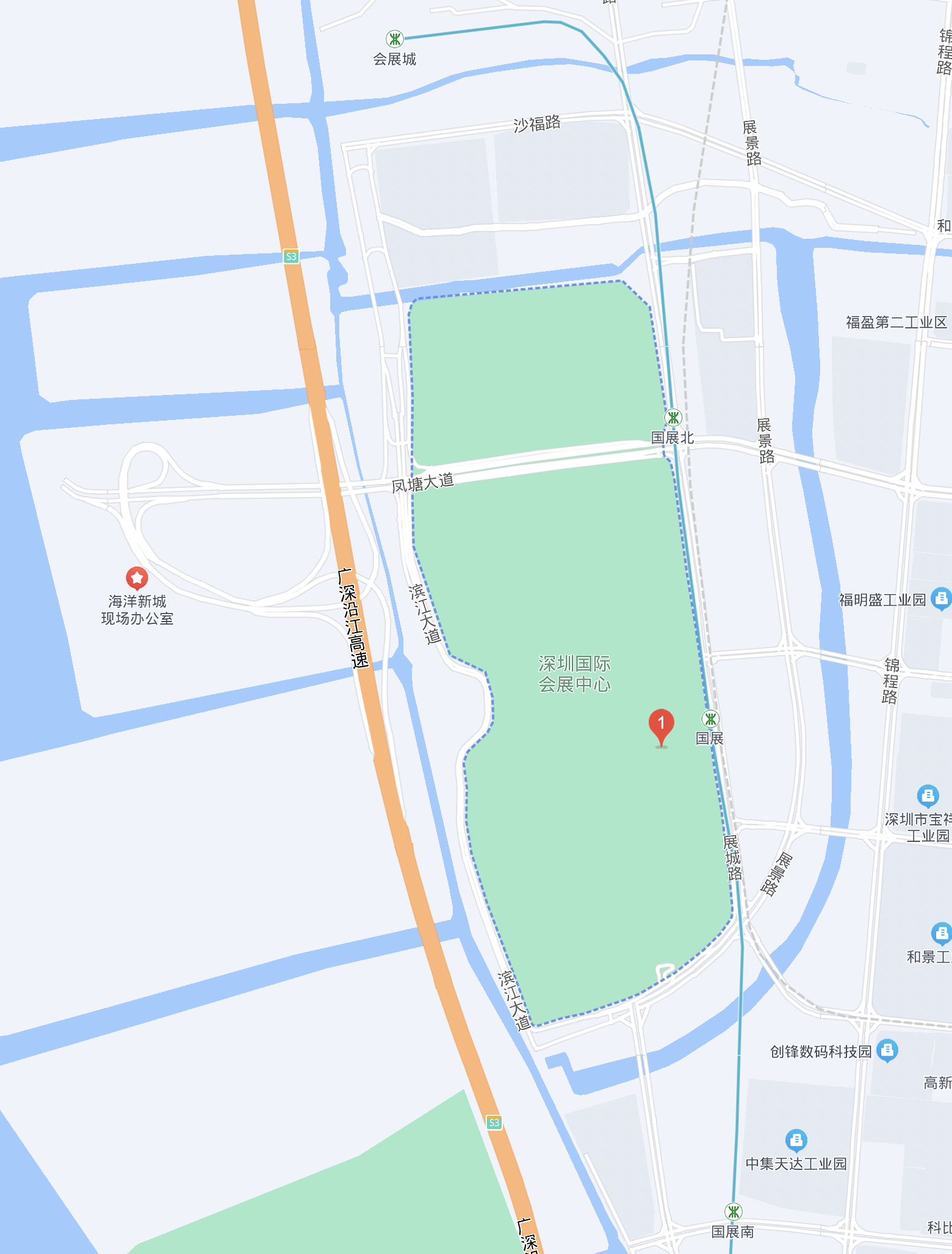 Venue Floor Plan
Source: Shenzhen World Exhibition & Convention Center official website