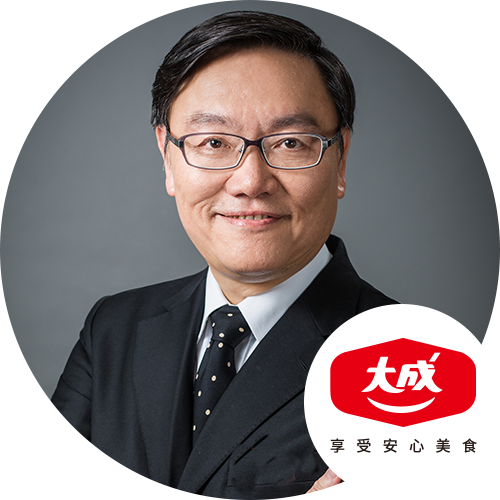 James C. Wei
Chairman
DaChan Food Asia
Mr. Wei, Chun-hsien (韋俊賢), is now the chairman of Dachan Food Asia Limited, the independent director of Taiwan Ta Ya Electric Wire & Cable Company Limited, and a senior advisor to the Blackstone Private Equity Group. Chun-hsien served as the chief executive officer of the Tingyi Holding from 2015 to 2020 and the chief executive officer of food business of Tingyi Food from 2013 to 2014. Prior to joining the Tingyi Holding, Mr. Wei, Chun-hsien was a senior advisor of CVC Capital Asia Pacific in 2012. From 2009 to 2011, he was the executive board member and the president of the Asian region of Beiersdorf Aktiengesellschaft Group. From 2003 to 2009, he served as the senior vice president of the Asia Pacific region of Avon Products Inc., where he was responsible for the operations in 10 markets, including Japan, Taiwan, Australia, Philippines and India. Before that, Mr. Wei, Chun-hsien spent 19 years at Procter & Gamble where he was promoted to become the vice president and general manager of Greater China region, overseeing the company's health and beauty care business in that region.
Mr. Wei, Chun-hsien holds a bachelor's degree in Electrical Engineering from National Taiwan University and a master's degree in Business Administration from the University of Chicago Booth School of Business in the United States.
---
Event Introduction
Marketing Talks
?·?09/21?(Day 1)
Growth and Beyond Growth
Growth Power
11:10
[Panel Discussion] From Flash to Beacon -- What is inspiring from FMCG Veteran Players?
P&G staged an employer show during the past autumn recruitment in August, sending CVs it has received in the past 20 yeas to old alumni. Half of the founding teams of neo-consumption start-ups have been "trained" by P&G. When the macro environment forces neo-consumption to slow down and think calmly, it is time that we reflect and learn from P&G again about its practice in branding, product management and organization.
FBIF 2022 will invite food & beverage practitioners who "graduate" from P&G to explore this topic.